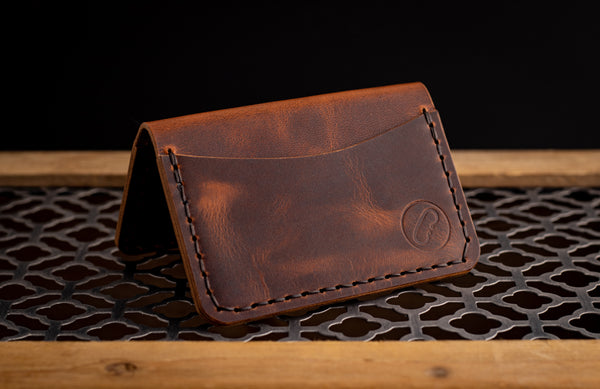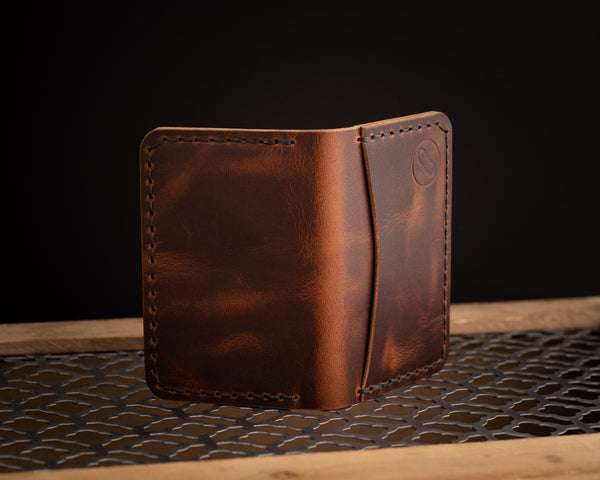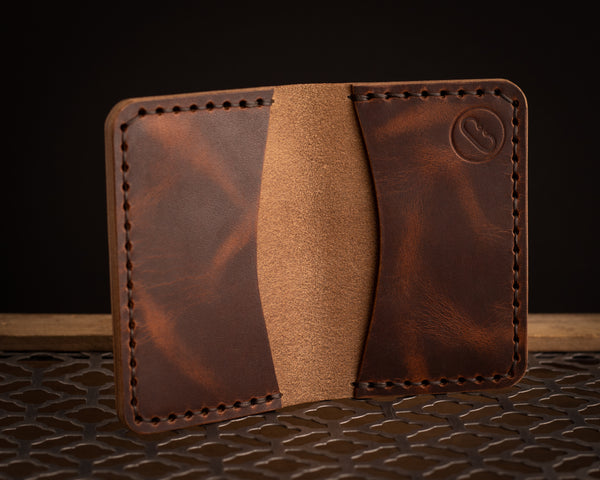 The Essential - Vintage Series
The Essential Wallet is a wallet that will securely fit a maximum of 9 cards. There are 2 interior pockets and one exterior pocket for quick access. A very low profile design that will discretely find it's place in your pocket.

This wallet is meticulously made by hand.

Fits 9 cards.
Handmade in Canada.
Minimalist look

Made of high quality leather
Built to last a lifetime.
 Part of the Vintage Series, this wallet features a more rustic and rugged look.
Shipping
Free standard shipping to Canada and USA on order over 35$.
We offer international shipping. Cost will be calculated at checkout.
Leathers and Thread
Leathers we use:
Buttero is a vegetable tanned leather from the Italian tannery Conceria Walpier. It is considered to be one of the highest quality leathers produced.
Pueblo is a vegetable tanned leather from the Italian tannery Badalassi Carlo and is well known for it's quality and exceptional look.
The Camo Series is using Italian leather from the tannery La Perla Azzurra
The Vintage Series is using chrome tanned leather from Acadia Leather.
Thread we use:
Ritza Tiger Thread (Made in Germany).
Lifetime Warranty
All of our products are of very high quality. From the materials we use to the way we craft the final product. That is why they are backed with our Lifetime Warranty.
If over time, your product degrades in it's construction. Please send us an email at info@flintandsteel.co and we will send you the instructions to send back the item for repair or replacement.
What is covered: Any defect in the construction or craftsmanship of the product.
What is not covered: Abuse, normal wear and tear, cuts, scratches.